Scott Kovacs, Operations Manager
Scott Kovacs holds a Bachelor of Music degree from Arizona State University, with prior study at Northern Arizona University in opera and organ. He studied choral conducting with Kurt Weinsinger, Jo-Michael Scheibe, and Donald Bailey; composition with Michael Schott, David Stocker, and Rodney Strong, and voice and vocal pedagogy with tenors Lloyd Hanson and David Britton as a bass-baritone.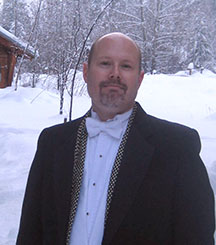 In addition to joining the Medieval Women's Choir this year as Operations Manager, Kovacs is also Executive Director and sings with the professional choral group The Emerald Ensemble. He is a member of the famed Compline Choir of Saint Mark's Cathedral, Seattle, and is active in the other choirs there where his voice is often heard as a soloist at special services. He is a founding member and past President of the Greater Seattle Choral Consortium, where he also is co-chair of the Seattle Sings! Choral Festival.
Scott served as bass section leader and General Manager of the Esoterics, and appears on many of the ensemble's most recent recordings. He also served as the Associate Conductor of Illumni Men's Chorale and conducted on their CD release Music of Russia with renowned bass Glenn Miller. He serves on the vocal faculty of Midsummer Musical Retreat in Walla Walla, WA.
Prior to life in Seattle, Scott was heard for many years singing with the Phoenix Chorale (then the Phoenix Bach Choir) and was a prominent music educator in the Phoenix area, having taught the six choirs of Poston Junior High School in Mesa, Arizona. He served on the National Board for Professional Teaching Standards Music Committee that authored the national standards for board certification of music educators. He has also held positions as a school district administrator and education technology consultant.
You can reach him at:  scott@medievalwomenschoir.com.
2016-17 Board of Directors
Matt Tracy, President
Carol Martin, Vice-President
Wendy Raskind, Secretary
Marian Johnson, Treasurer
Goodwin Deacon, Board Member
Mary Lynne Evans, Board Member
Megan Spurr, Board Member